It's that time again! Wednesday = What I Ate Wednesday hosted by the gorgeous Jennifer at
Peas and Crayons
!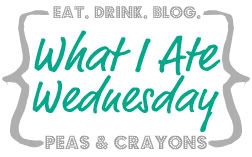 If you haven't already, click on the above icon to check out all of the amazing eats on her page! Now onto the party!
Thanks for all the positive feedback from my last post! I full-heartedly agree that positive thinking and changes are for the best. I know that my life has a purpose and those changes that occur in my life are just a road leading me to the next best thing. I have faith!
Follow me on
twitter
<-- by clicking. I am going to try my best to remember to post a positive affirmation each morning and night, by just reading them you will see how much better you can feel!
Roasted Greek Eggplant Topped/Stuffed Chicken
2 boneless chicken breasts
2 tablespoons seasoning (I used tomato, basil and garlic grill mates)
1/2 medium eggplant
2 tablespoons cup extra-virgin olive oil
1/4 cup crumbled feta cheese, preferably Greek
1/4 cup finely chopped red onion
1 small red bell pepper, finely chopped
1/2 small jalapeño, seeded and minced (optional)
1 tablespoon chopped fresh basil
1 tablespoon finely chopped flat-leaf parsley
dash cayenne pepper, or to taste
dash salt
1. Position oven rack about 6 inches from the heat source; preheat broiler.
2.
Line a baking pan with foil. Slice Eggplant in half. Place eggplant in the pan and poke a few holes all over it to vent steam. Drizzle with olive oil and salt. Broil the eggplant, until the skin is charred and a knife inserted into the dense flesh near the stem goes in easily, 5 to 10 minutes. Transfer to a cutting board until cool enough to handle.
3.
Scrape the flesh into the bowl. Add oil and stir with a fork until the oil is absorbed. (It should be a little chunky.) Stir in feta, onion, bell pepper, chile pepper (if using), basil, parsley, cayenne and salt.
4. Coat chicken evenly with seasoning. Place in a baking dish. Top with eggplant mixture (or you can stuff! see how to here). Cook for 30-40 minutes at 350 degrees or until chicken is cooked thoroughly. Top with additional feta crumbles/mozzarella (optional).
*You could also use this recipe solely as a dip as Eating Well did. Both ways are amazing!
And yes after my glass of wine I still had berries leftover so I filled it up with some OJ! Stay tuned to tomorrows post, I am going to post lots of drink recipes for the beach! I am preparing for this weekend! (here is a hint - mimosas, pineapple rum mojitos, raspberry/strawberry/cherry daiquiris, white wine sangria and more!).
I also had an amazing PB&J cupcake for lunch courtesy of MNI (an agency in Annapolis) who brought a cupcake truck to our office for free goodies! so delicious i need to recreate!! Don't worry, I grabbed a chocolate one for CL (so he wouldn't get jealous of my awesome job perks).
I would post the pics of the cupcakes but blogger is acting up right now! you can check my
FB page
to see the deliciousness!