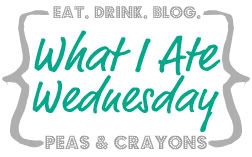 I'm linking up with Jen over at Peas and Crayons for this weeks WIAW!
For the past week I have been eating lots of cereal. I always switch up my breakfast (unlike all you oats lovers) but couldn't shake a big bowl of honey nut cheerios with strawberries every morning.
I know some of you say cereal can only be a snack. It never fills you up. Maybe you are eating it without ginormous strawberries on top. This holds me over until 11:30 and I just suck it up until noon.
This morning I switched it up and made me and CL blueberry pancakes (i had leftover batter from the weekend). I topped it with a heaping amount of sugar free syrup. mmmmm.
One huge, thick and dense pancake coming right up! I used frozen blueberries and trader joe's buttermilk pancake mix. To be honest, I think the best pancakes turn out when I add in some greek yogurt to the batter!
I love crock pots. Who doesn't? I even have an app on my iPhone for crock pot recipes but nothing beats the classic pot roast. Especially with local meat, because it really does beat the roasts I used to buy from the grocery store.
I cheat and use the seasoning packages but you could easily build your own.
IMPORTANT NOTE: I
always
sear my roast in a pan with olive oil, salt and pepper before putting in the crock pot. I add in half of a white onion sliced, two medium red potatoes and celery. Other good add ins would be any root vegetable.
Add the suggested amount of water per seasoning package (3 cups), set your crock pot to low, put a dish towel over it (to secure the heat) and you have an amazing meal waiting for you when you get home.
So amazing that you won't even want to stop eating long enough to take a picture.
But no worries, it's summertime and there is no way you and your mister can eat an entire roast. So that can only mean you use the leftovers for shredded beef bbq sammys in the morning.
Yeah. you are drooling right now. Just admit it. Do you see how easily that roast was shredded. It literally fell apart when I took it out of the crock pot! CL had his on Ezekiel bread, I just couldn't do that to my bbq....I put on a potato roll.
I paired this with some no sugar added apple sauce, half and apple and some sliced berries for lunch.
I'm not going to lie. I can't wait for lunch.
What did you eat today? What's your favorite thing to cook in a crock pot?