I love summer for many reasons. I get a nice tan, natural highlights pop up in my hair, the beach, jet skiing, popsicles, pedicures, fresh garden veggies and sun dresses.
BUT
I sure do love the fall. I love skinny jeans in boots, I love oversized sweaters with belts, I love layering my clothes, I love the first weekend the leaves are all changing colors, pumpkin flavored everything and of course how the city lights up in purple for Ravens football.
Don't get me started on picking apples, wine tastings, carving pumpkins, bon fires and hay rides. There is nothing better than the fall to me. It is just so warm and inviting and when I do get to walk down the isle one day you better believe it will be in the fall.
Is it just me that daydreams about fall clothes and boots? Just me? Okay. Back to what i was originally going to write about.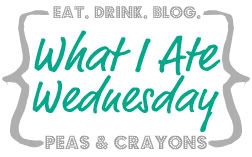 I'll share some new photos of what I have been eating lately...
Lots of Food Should Taste Good Chips and Salsa
I clearly do not deck myself out in makeup at work. And I have been on a no hair dryer kick lately, braids = waves my friends!
Todays breakfast. Cherries, a few golden raspberries and granola on top of a cup of peach yogurt.
Sunday's Brunch. Sick Cara = Can actually sleep past 8! 2 eggs, half a nanner and a TJ sandwich thin with apricot preserves and a sprinkle of chia seeds.
Frozen Yogurt! Peanut Butter, Cappuccino, Cake Batter and Cheesecake with yogurt dots, heath bar and a few sour worms. I can never just choose one flavor!
Sorry for all of the iPhone pics... we just moved (more on that later) and my camera is somewhere in a box! I'll rescue it tommorow!
Now onto the old. I always am racking my brain on what to make for dinner. It is the one meal that me and Chris eat together and that I actually get to take my time making. Mornings I am always throwing things together before work, hence my yogurt breakfasts.
Looking back through my recipes I haven't made curry chicken in awhile! The good thing about blogging is whenever I am in a stump about what to make I can look back to old recipes or find new ones from other blogs! This recipe is simple, healthy and a crowd winner...
Curry Chicken:
Serves 4
1 to 1.5 pounds chicken breast, diced
1 tablespoon minced garlic
2 tablespoon curry
1 tablespoon cumin
1/2 teaspoon tumeric
1.5 containers non-fat greek yogurt
1 tablespoon lime juice
Directions:
Add all ingredients together in a mixing bowl. Cook on medium high until chicken is fully cooked. Serve over rice.
This recipe is great with shrimp as well! I love serving it one top of grilled onions!
Zucchini and Squash!
Indian feast! Whole wheat naan, homemade hummus, roasted cauliflower :-)
So there you have it! Don't forget to enter my giveaway! Food Should Taste Good tortilla chips are going to send one of you 5 of your favorite flavor chips! Enter
here
!!