It's that time of the week again! WIAW = What I Ate Wednesday!
Last week over 100 bloggers shared what they ate with Jennifer over at
Peas and Crayons
! As always, if you need meal inspiration click on the logo below to drool over lots of appetizing photos and recipes!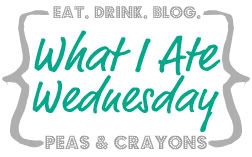 My body has decided to reject the idea of coming home from the beach... I am now sick, but taking every precaution to get well before I return to OCMD this weekend! I have been taking medicine, drinking lots of orange juice (the more pulp the better) and resting (days off from the gym - boo).
I always have the strangest urge to work out when I am sick, but I made a promise to myself that I would take three days off so I could heal. Hopefully I will be back to spin class tomorrow!
Before I talk about the boring breakfast and lunch eats I have to share with you last nights dinner!!
Shrimp "Fried" Rice loaded with veggies!
1 medium red pepper sliced
1 cup brocolli
1/2 cup peas
1/2 eggplant sliced
1/4 cup sliced carrots
1/2 pound shrimp (cooked and peeled)
1 cup rice (brown or white - i add fiber when using white)
1 egg, 2 egg whites
1 teaspoon fish oil
1 teaspoon sesame oil
3 tablespoons low sodium soy sauce (more or less to taste)
1 tablespoon olive oil
Directions:
Cook your rice (1 cup rice, 2 cups water) and set aside. In a large pan add all veggies and olive oil and cook until soft (with some bite left). I always add in the peas last since they cook faster! Add fish oil, sesame oil and soy sauce to pan with rice. Crack your eggs and mix in a separate bowl (no egg shells in my food!). Add to the rice and veggie mixture. Cook over medium high heat, mixing until eggs are fully cooked. Top with shrimp, a couple extra shakes of soy sauce and pepper!
I love making this dish when I have tons of veggies left over and hardly anything else in my pantry! So delicious and easy!
In other news...
I have been having a packet of this for breakfast:
With this for lunch:
Told you it was boring!! I also had half of a light ceasar salad with my soup. Yup, still boring.
Since I am headed to the beach again this weekend and had no time to shop I am going to write out my shopping list so someone please hold me accountable!!
-New bathing suit
-Easy cover up
-Black and white shorts
-Bronzer
-Eyeliner
-Wine (sangria and jazzberry)
-Flip flops
-Snacks and lunches
Tomorrow/Friday I am preparing lots of snacks and lunches we can take with us on the beach, so stay tuned and suggestions are always welcome!!