Another week, another WIAW post!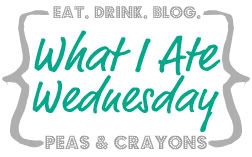 Jenn at Peas and Crayons hosts a WIAW link up party every week to showcase what other bloggers are eating to give you inspiration on your weekly meals.
For breakfast I had my usual yogurt and fruit bowl.
Yogurt, honey, apples, peaches and a sprinkle of cinnamon! So delicious and fall like :)

For lunch I had leftover chili. Leftover chili is always the best. The flavors get to come together and it tastes better the longer it sits!
This is a lentil vegetarian chili I found the recipe on Pinterest. I'll post about it soon you so guys can have as well! It was great and I love how the recipe thickened it up with tomato paste. I like a thick chili :)
For dinner I made a butternut squash lasagna. It wasn't a quick dinner to prepare, but it was definitely worth the love I put into the dish!
First I peeled and de-seeded my butternut squash. I covered all sides with nutmeg, cinnamon, olive oil, salt and pepper. (sage would have been great but I didn't have any)
After baking it in a 400 degree oven for 40-50 minutes it was ready to be mashed! I didn't puree my squash because I wanted a thicker texture. See all that steam?!
I added it to a bowl with the rest of my filling ingredients. 1 cup ricotta, 1/2 cup parm cheese, 1 egg, salt and pepper. Again, you could add more nutmeg and sage, but I read reviews that said if you did it would be a sweeter lasagna. So I omitted more cinnamon and nutmeg.
I layered the cooked lasagna noodles with my squash mixture, mozzarella cheese and a low fat bechamel sauce.
Recipe here
:-) Cover with foil and bake in a 375 degree oven for 30 minutes. Enjoy!!
And that's a wrap! I will tell you one thing, I am excited for this weekend. Anything involving planning I immediately love! I am cooking breakfast for the girls this weekend before our boys race in Seagull Century and we have lots of fun things planned.
Hope you like pumpkin! They are taste testing my pumpkin french toast recipe :-)
Pin It