Tis the season... to get hitched!
Our Christmas photo from last year!
My friend and bridesmaid Elena sent me this awesome Christmas Card!!
Did you know that the holiday season is the most popular time for fellas to pop the question?
As I was driving to work today I couldn't help but think how wonderful this year has been and how blessed I am to be engaged to my best friend. I'm so lucky to have amazing friends and family who love and support us, to be able to purchase our first home together (once we find another that we love), to both have amazing jobs and to have grown in our careers in the short time since we've graduated and so much more!
I am cherishing every ounce of wedding planning because I know time moves quickly and I don't want to miss a thing!
So far I have set up an appointment with 4 bakeries for our wedding cake, our florist, contacted several videographers and photographers and have made an appointment for a few of my bridesmaids to start trying on dresses to get a feel for what they like.
I'm feeling pretty good! I need to make a decision on our DJ since we have a few family friends who we could use, interview a few officiants, and visit a linen place to get a few ideas on tablecloths.
I will admit that being engaged around the holidays and watching what you eat so you can slip into wedding dresses is hard!!! It's hard to resist all of the goodies and dinners out at restaurants visiting with family and friends. So, starting next year I have decided to join the gym 5 minutes from my office so I can work out during lunch! Hopefully this will leave me with no excuses!
We also picked out CLs wedding band! It was a really great moment after trying what felt like 30 rings. Funny thing is, I tried on about 3 before deciding which one I loved. Guys are so silly! I'm so excited we found the perfect one. :)
I found Panera salad dressing at the grocery store and I almost screamed for joy! I have been trying to recreate the fuji apple salad dressing all year and now I don't have to!
I love this salad and I love it even more that I can make it myself! I take mixed greens, pecans, feta cheese, red onions and apple slices to work and top with the Panera dressing and it tastes like I just picked it up from the store! So good.
I've been having a container of plain, non-fat greek yogurt with apple slices, yogurt and cinnamon for breakfast a lot lately. Greek yogurt + honey = match made in heaven!
An easy dinner to prepare ahead of time is tilapia packets! Add sliced veggies (red and green peppers, celery, carrots, parsnips), tilapia and old bay together in a foil packet and all you have to do is pop it in the toaster oven when you get home from work! Healthy and requires no thinking about what's for dinner!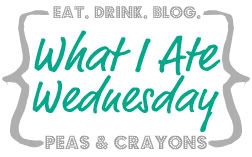 See what other bloggers are eating and join the WIAW party with Jenn over at
Peas and Crayons
!