Ahhhh... is there anything better than a nice lukewarm shower after a long run? CL and I met up after I got off work at the B&A trail for a nice 4 mile interval session. It started raining on and off which felt amazing. I could live in this weather forever. I don't mind evening thunderstorms... as long as they don't interfere with my television!
love my CL <3
Mother's Day is next Sunday, so I have been brainstorming things to do for the most important person in my life! I know sometimes she stops by my blog so here are MULTIPLE things you can buy/make for your momma bear! Gotta keep her on her toes!
Sending flowers are always a great way to show someone you care. Send them to her work and surprise her a few days early ;-) Shows you were thinking ahead of time!
Go to your local Paint Your Own Pottery store. Mom's love handmade gifts and usually are coffee/tea lovers. Give her something that will remind her of your love with each sip!
Make her a basket full of things she loves! My mom loves to garden. A planter filled with gloves, seeds, snacks, chocolate, tea and suntan lotion is a great gift! Does your mom love relaxation? How about filling a shower caddy with a monogrammed towel, face mask, chai tea, and nail polish (and a spa gift card if you are feeling extra nice!)
Whatever you do, your mom with love it. You could make her a homemade card and bring tears to her eyes! I already found the best recipe for a lemonade cake with blueberries I plan on making for her! YUM!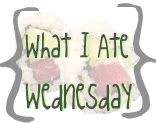 2 slices bacon, coffee and a banana
Black bean cheese burger
A spinach, pecan and strawberry salad with homemade dressing:
1/4 cup fresh squeezed lemon juice
1/4 cup balsamic vinegar
1/2 tablespoon honey
fresh lemon zest
salt and pepper
Carrots and Guacamole
Chicken and Steamed Brocolli
Honey Greek Yogurt with Strawberry slices
Have a great night guys and start planning your mother's day gifts!