I haven't participated in a WIAW in forreeevvaaaa.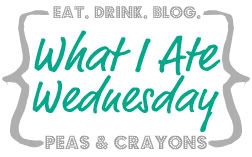 Alright, so I haven't posted in forever but I have some news to share and recipes for you to try!
Last Thursday I headed over to Ohio with my mom to visit my sister who recently moved there to attend Ohio State Veterinary School. I got to watch her walk across the stage and shake the Dean's hand.
After hearing the Dean's speech about the importance of preventing food borne illnesses in the US meat supply and how many people have been affected I started to think. I already have been on the fence about cutting out meat from my diet and this was a change I was finally ready to make.
No Gramma this doesn't mean I will turn to tofu now. I have decided to be a Pescatarian.
Pescetarianism is the practice of a diet that includes seafood and excludes other animals.
It's actually a lot easier than you may think! I have already made plenty of delicious recipes that are high in protein and super delicious - sans meat. I already feel more regular and without the stomach problems I was facing on a daily basis. Trust me, it was not a fun ride lately!
I had a mozzarella, tomato and pesto grilled cheese for my birthday dinner with my dad. Plus some tempura asparagus - yummm
Photo credit: Eat Live Run - I made her barbecue chickpea pizza and it was delicious.
Brie and Jam wontons with wine. So delicious and simple! Cut a baby slice of brie and half a spoonful of jam (blackberry was my fav) fold over and bake in the toaster oven for 5-7 minutes at 350 degrees.
I had a similar strawberry basil lemonade in Ohio for lunch while visiting my sister that my mom and I had to recreate! Luckily my strawberries and basil plants are still blossoming so we had everything at home! Just placed some in our processor and added to fresh lemonade. If you love mojitos you will love this!
Vegetarian Chili for Ravens Sunday :)
1 can light red kidney beans
1 can dark red kidney beans
1 can pinto beans
1 can black beans
2 onions diced
1 large can stewed tomatoes
5 roma tomatoes from my garden diced
2 ears of corn
2 packets of low sodium chili mix
1 jalapeno diced
1 green onion diced
cilantro to taste
cumin to taste
Instructions:
Simply prep all of your veggies and add all ingredients to a pot, bring to a boil then simmer in a crock pot and serve to your friends! Top with plain non-fat greek yogurt and cheese. Scoop up with some chips and watch the Ravens win!!
Alright, I think that should make up for my lack of posting. I couldn't be happier with my decision to be pescatarian and if you are thinking about giving up meat but can't make the commitment - try omitting chicken and red meats from your diet as a start!
Thanks Jenn for letting me link up once again to your amazing WIAW party :)