Halfway through the week ---> Almost to the weekend ---> Almost to
October
!
I will say one thing. This weather is insane! Lots of rain in the 70's and then when the sun decides to come out this weekend it's dropping to the low 60's. Mother Nature, I thought we had a talk about this!
One thing I do know for sure is fall and colder weather makes me crave soups. I made cream of asparagus last week and just followed my
pea soup recipe
substituting asparagus and adding a little lemon zest. It turned out great and leftovers always make great lunches.
Tonight, I was craving black bean soup. Something hot, a little spicy and topped with a little bit of melted cheese. After searching on Pinterest one image and recipe was added to the to-do list!
Black Bean Soup
Recipe Modified from Our Best Bites
Ingredients
1 T olive oil - used Wegmans garlic and herb oil
4 large cloves garlic, roughly chopped
3/4 C diced carrots (about 3 med carrots)
3/4 C diced celery (about 3 ribs)
1/2 red pepper chopped (i added)
1 C diced onion (about 1 med onion)
2 cans black beans, rinsed and drained
1 3.5 oz can green chilies
2 cans low-sodium beef broth (i used vegetable)
1 t kosher salt
1/8 tsp black pepper
1/2 t chili powder
1/4 t cumin
1/2 t dry oregano leaves
1 bay leaf (i omitted)
Optional Toppings:
sour cream, tortilla chips, grated cheese, chopped cilantro, etc.
Directions:
Place a large stock pot on the stove-top and set to medium-high heat. When pan is warm, add olive oil. Add carrots, celery, onion, and garlic and saute 4-5 minutes.
Add in the black beans, chilies, and beef broth. Stir to combine and then add the salt, pepper, chili powder, cumin, oregano, and bay leaf.
Simmer uncovered for about 20-25 minutes or until carrots are tender. Remove from heat. Remove bay leaf from soup.
Place soup in a blender. (You could use an immersion blender in place of this step) Place lid on blender, but remove the stopper in the lid to let heat escape. Place a paper towel over the hole to avoid splatters.
Puree soup until completely smooth. Optionally you could pulse until a semi-chunky soup is achieved. Squeeze in the juice from one lime and pulse to combine.
Ladle into bowls and top with desired toppings.
I served this with a grilled veggie and mexican cheese panini (for CL). Delicious and a great, healthy meal for a cold fall day :)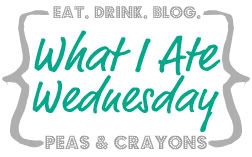 Since this is a WIAW post which Jenn from Peas and Crayons hosts every Wednesday I decided to share with you what else I have been eating :)
Breakfast:
Cup of nonfat plain Greek yogurt (protein) with half of a peach and honey.
Snack:
Multigrain Tortilla Chips and Black Bean Salsa (protein) -morning
Kashi Pumpkin Pecan Fruit and Grain Bar -afternoon
Lunch:
Grilled Cheese sammy and a handful of unsalted saltine crackers
Dinner:
Black bean soup (protein)
I've had a few people ask where I get my protein from since becoming Pescatarian. You can see I get plenty of protein in my day from greek yogurt, beans, fish (very high) or peanut butter.
PS. I shared some of my DIY crafts I made over the weekend (more to be revealed later). Check them out!
DIY Yarn Monogram Letters